Man robs West Sussex post office at gunpoint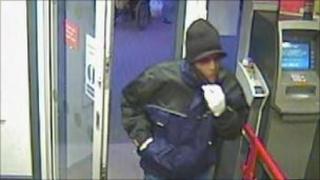 A gunman who attempted to rob a bank in a West Sussex town four days ago has struck again, police believe.
Sussex Police said a man entered a post office in Church Walk, Burgess Hill, at 1720 GMT on Monday and threatened staff.
Officers have linked the incident to a robbery at Santander bank in the town on Friday.
Police have released a CCTV image of the suspect entering the bank at 1645 GMT.
Fled empty-handed
In the latest incident, a member of staff handed over cash after the man threatened post office staff and customers with a gun.
In the attempted robbery on Friday, the man fled the scene empty-handed after staff raised the alarm.
Det Insp Russ Sheppard, of Sussex Police, said: "Although there have been two similar incidents in Burgess Hill in the past four days, armed robbery is rare in the town.
"We believe that this incident may have been carried out by the same man who attempted to rob the Santander bank on Friday."
In both incidents, staff were left shaken but not injured, police said.
The suspect was described as being mixed race and about 6ft tall. He was wearing a scarf and a black beanie hat with a peak, black shoes and blue jeans.