Crawley boy refuses birthday gifts to aid charity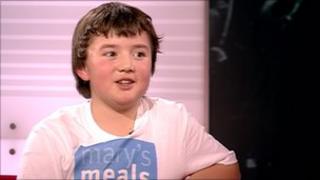 An 11-year-old boy from Crawley has helped raise thousands of pounds for charity by refusing to accept birthday presents for the past seven years.
Charlie Doherty first asked people to give money to worthy causes instead of gifts when he saw the effects of the 2004 Boxing Day tsunami on television.
Charlie, who recently celebrated his birthday, has also carried out a number of fundraising feats.
Earlier this month he walked from Crawley to Brighton.
In 2010 he ran the Brighton Marathon Mini Mile to help raise money to build a kitchen in a school in Malawi.
'Pretty unique'
Charlie said: "The tsunami in 2004 when I was four, it just struck me how we have so much and all their homes were knocked down by all this water and they don't have anything.
"I thought there must be some way I can help."
He added: "For my fifth birthday party I asked for money instead of presents and gave that money to charity. My main charity now is Mary's Meals.
"I just raised over the £15,000 mark but I couldn't do it without the support of my friends and family."
Charlie's mum, Julie, added: "I've got two other children and they've done their little bit for charity as most people do but I think they find that Charlie is pretty unique and he's done it consistently for seven years.
"It's not just the birthday presents he's given up, he's looking at other ways to raise funds for the charities that strike him."