East Sussex County Council to make £100m savings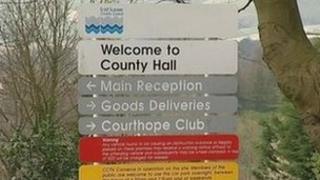 Up to 200 jobs could be axed over the next financial year at East Sussex County Council as it seeks to save £100m over the next four years.
In a report to be discussed by the cabinet next week, it is proposing to save £37m in 2011/12, which will include £20m from children's services.
The council said all departments would have to make some cuts, and a voluntary redundancy scheme would be in place.
Councillor Tony Reid, deputy leader, said: "Some decisions will be painful."
He said: "The scale of savings is broadly in line with our planning.
"We are looking at all our services to make sure we focus on responding to the needs of residents despite having less money.
"There will be some tough choices and some decisions will be painful," he said.
The Conservative-controlled council warned that funding for some work would have to stop completely.
"However, it isn't all bad news and we welcome the additional grant funding for services for adults," Mr Reid added.
"It's also worth remembering that we will still have a budget of about £500m excluding schools and we will continue to provide vital local services for our residents."
'Natural wastage'
He said the authority's overall aim was to carry on managing its finances well, focus on key services and "keep a lid on council tax".
The council said it would endeavour to reduce the need for compulsory redundancies through voluntary redundancy, natural wastage, redeployment and not filling posts that became vacant.
Mr Reid said despite the government cuts it had received better news on building projects, with some new grants announced for "much-needed" capital projects.
"This will help us to deliver some of our priorities, such as support for the academies programme in Hastings and Eastbourne to help raise educational standards, road and school building improvements and better broadband for the county," he said.