Sussex gets smartphone app for checks on air quality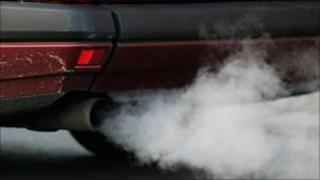 A smartphone application (app) showing air pollution levels across Sussex has been launched.
The free download, developed by the Sussex Air Quality Partnership (SAQP) with King's College London, includes maps, statistics and notifications.
An SAQP spokesman said the service would provide "crucial resources" for residents concerned about air quality.
Last year, Storrington village failed an air quality test after traffic fumes led to a build-up of nitrogen dioxide.
After high levels of pollution were identified, Horsham District Council formed an action plan to tackle the problem.
The new smartphone app provides information recorded at monitoring sites across Sussex.
Developers believe it is the first time people have been able to access real-time air quality information on the go.
SAQP said the app also allowed people commuting from Sussex to London to access the London Air monitoring network.