Six dogs abandoned in Brighton may be put to sleep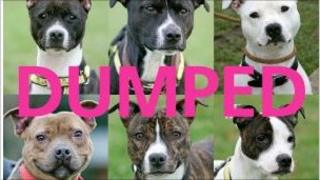 Six Staffordshire bull terriers found abandoned on the streets of Brighton will be put to sleep unless they find new homes within a week.
The dogs, two male and four female, are currently in kennels after being found by officers from the city council's animal welfare team.
The council said it was the second year that Staffordshire bull terriers had featured on the re-homing list.
Three were put to sleep last year after efforts to find them homes failed.
Tied to railings
The six were found frightened and hungry in various parts of Brighton during Christmas and new year and can only stay in kennels for a month, senior animal welfare officer Sue Watson said.
One of the dogs had recently had puppies and was seen being tied to railings in a children's playground before her owners drove off.
Ms Watson said: "In the past we have searched all over the country to find potential homes, but have ended up having to put them to sleep.
"We desperately don't want this to happen to these dogs, but it's not viable, either financially, or for the wellbeing of the dog, to keep them in kennels for longer than a month."
Councillor Geoffrey Theobald said Staffordshire bull terriers often had a bad reputation but were no different to any other dog when they were born.
He said: "They are lovely, loyal and affectionate dogs. But they do need to go to experienced owners who will not allow them to dominate the household."