Ed Miliband pledges to win back support in South East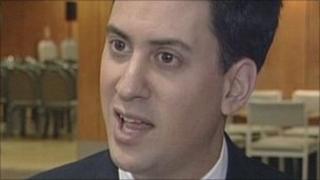 Ed Miliband had said he understands people in the South East are feeling "financially squeezed".
The Labour leader met about 200 people at Hove Town Hall in Sussex for a question-and-answer event. It followed his party's victory in the Oldham East and Saddleworth by-election.
Labour won with a majority of 3,558, with the Liberal Democrats in second.
Mr Miliband said he would not "gloat over (the) victory" and pledged to win back the trust of South East voters.
He told BBC South East Today: "We've got to go right across the country and win back support, but I'm getting on with the job and I think that's the right thing for me to be doing.
"I would say to people in the South East that I understand the way that people feel financially squeezed.
"That's why I've been standing up on issues like tuition fees, child benefit, tax credit.
"To say, 'Look this isn't the right priority, particularly not at a time when you're cutting taxes on the banks.'"