Victim's car 'driven after Bexhill murder'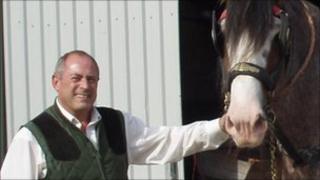 A murder victim's car may have been driven after his death and property has gone missing from his Sussex flat, police have said.
Peter Bick's body was found in his flat in Dorset Road South, Bexhill, on Wednesday. He was the victim of what police describe as a vicious attack.
Det Ch Insp Nick Sloan said they were looking for several items including Mr Bick's missing laptop computer.
Police also believe Mr Bick's car was driven on Tuesday after his death.
A post-mortem examination revealed Mr Bick, who used drive a carriage for the Duke of Edinburgh, died from severe blows to his head.
Det Ch Insp Sloan said: "We believe that after Peter was viciously attacked in his flat in Dorset Road South on Tuesday morning, items were moved and some have gone missing."
Missing computer
It is thought Mr Bick's red Ford Fiesta, registration RJ04FLN, was driven through Bexhill and Hastings on Tuesday afternoon, and later on the A21 through Hurst Green and near Paddock Wood in Kent.
Det Ch Insp Sloan said it was possible that the person driving may have stopped and discarded property on the way.
Mr Bick's black widescreen Toshiba Satellite laptop, model C650-166, is also missing and police believe the computer may provide valuable information needed in the murder inquiry.
On Wednesday, Christopher Hunnisett, 27, of Hastings, who was previously cleared of murdering the Reverend Ronald Glazebrook, was arrested on suspicion of murder after walking into Hastings police station. He was still being questioned on Friday.
His acquittal in the Glazebrook case came at the end of a retrial, after he had spent eight years in jail.
Searches were carried out on Bexhill beach on Thursday for the missing items, which included Mr Bick's mobile phone, his phone sim card, memory cards, a black woolly hat with a grey badge and black ski gloves.
Police said the first search was hampered by the tide and operations resumed on Friday.
Detectives want to speak to anyone who might have seen Mr Bick's car, or has come cross any of the missing property to contact them. They also wanted to speak to anyone who may have been offered the computer for sale.