Snow sees dip in passengers using Gatwick Airport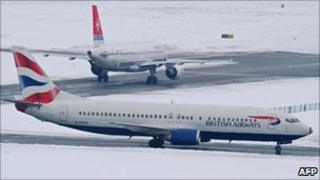 Snow and ice are being blamed for passenger numbers at Gatwick Airport dipping by nearly 11% in December.
The West Sussex airport was forced to close on several occasions because of the weather conditions it described as "unprecedented".
Overall, 1.89 million passengers were handled at the airport - a 10.7 % reduction on the December 2009 figure.
Flights to and from Ireland saw the biggest dip with the number of travellers falling 23.7%.
But Gatwick said, putting aside the impact of the weather, the underlying trend showed passenger growth for the month was "in the region of 2.6%".
Flights cancelled
On 17 and 18 December, the airport closed for two days because of heavy snowfall and freezing temperatures leaving thousands of travellers stranded.
It reopened, only to shut again because of more snow on 20 and 21 December.
The airport used a 150-strong team during the disruption to clear snow and ice from the runways to enable services to resume.
Overall, Gatwick handled just under 31.35 million passengers in 2010 - a 3.2% fall on the figure for 2009.