Hove Post Office security stepped up after robberies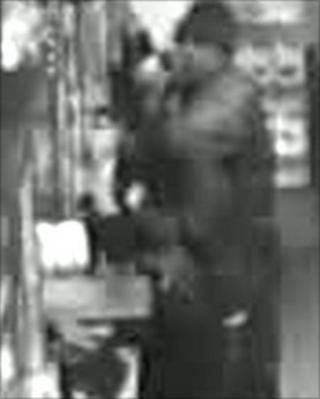 Security is being stepped up at post offices in Hove which have been targeted in a series of armed robberies which police believe may be linked.
Security guards have been put in place at the Western Road and Melville Road premises and Sussex Police have increased patrols in the area.
CCTV footage has been released of the gunman, who threatened staff in Western Road in the latest raid on 6 January.
A quantity of cash, in notes, was handed over before the raider ran away.
He headed west along Western Road and crossed over near the Freemasons public house.
It is believed the same man may have carried out robberies in Melville Road on 27 September, 4 October and 9 December.
"Due to the similarities of the offences we are treating them as linked, however, we are keeping an open mind," said Det Con Robin Aspin.
"This has been very distressing for Post Office staff and members of the public caught up in the robberies and we have been offering our support."
The Post Office has offered a £25,000 reward for information leading to a conviction.
The Western Road raider is described as black, in his 40s, 5ft 6in to 5ft 8in tall, and stocky. He spoke with a Cockney accent and was wearing a blue waterproof coat, dark woolly hat and black boots.