Sussex baby girl in 'terrifying' flu ordeal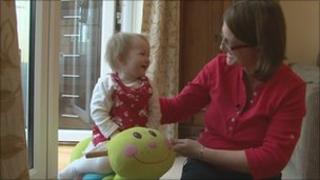 The Sussex parents of 14-month-old baby who spent five days in hospital after suffering a reaction to swine flu have described the ordeal as "terrifying".
Elspeth Hill was admitted to Eastbourne District General Hospital on New Year's Eve with swelling on the brain.
Doctors told her parents, Nichola and Gordon Hill, that Elspeth had suffered a very rare reaction to the virus.
Mrs Hill said her daughter's face when she was at her most ill would stay with her forever.
The 37-year-old mother from Langney Point said: "My husband found Elspeth in the morning. I thought at first she was just overly tired. But he picked her up and she was all floppy and wasn't responding when we said her name."
She said her first thought was that her daughter had meningitis.
Brain condition
Mrs Hill said: "It will live with me forever when I looked at her. My husband said it was a dying face. Any longer and I don't think she would have made it."
She said doctors knew Elspeth had a brain condition as soon as she was taken in, and it was later diagnosed as encephalitis, or inflammation of the brain.
"They were very surprised when the blood tests came back as swine flu," she said.
"She was being treated for lots of different things at the outset just so they had everything covered. But she wasn't symptomatic of swine flu. She'd had a bad cold and a bad cough as we all had, but I would never have described it as a flu."
Mrs Hill said her daughter recovered within days and was fully back to her old self about a week after she was admitted to hospital.