Fears over cuts to care for the elderly across Sussex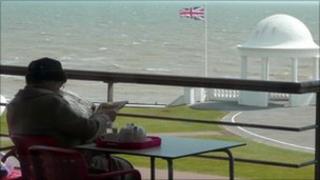 Support for elderly people in Sussex is being shifted towards those with more pressing needs as councils seek to balance the books.
Both East and West Sussex county councils say they have no choice as government cuts start to bite.
But charities have warned they do not have the resources to plug the gap.
The public sector union, Unison, said it had serious concerns about the impact of withdrawing support from vulnerable people.
Under the proposals, local authorities want to tighten the eligibility criteria they use when deciding which social care services they provide.
East Sussex County Council (ESCC) is considering stopping payments to those classed as having substantial needs in order to focus on people with critical needs.
West Sussex County Council (WSCC) plans to stop providing social care to people with moderate needs in order to focus on those with substantial or critical needs.
'Meagre means'
WSCC, a Conservative-controlled authority, has said it has to make £75m of savings because of a reduction in government grants over the next three years.
The council said the changes would bring the local authority in line with 75% of councils in England.
ESCC, also Conservative-controlled, said it needed to "think carefully" about how to spend its community care budget but would continue to provide a range of services.
But Unison said even people currently deemed as having moderate needed vital care.
In West Sussex, for example, those in the moderate category include people who have difficulty washing, preparing a meal and sustaining a social life.
Those deemed to have substantial needs include people who cannot carry out the majority of domestic routines, whereas critical priority is given to people whose lives may be threatened without help.
Unison cited an example of one woman in her 80s who has been classified as having moderate needs.
The union said she lived alone in a rural village and could not walk far.
Ageing population
She relies on day centre transport to visit a council-run day centre once a week, and has a carer visit her home to help with dressing and preparing food.
Another woman, aged 85, lives in a three-bedroom house on her own and suffers from angina and arthritis.
Her carer visits her for 45 minutes a day, does her shopping and helps with personal care.
Chris Earwaker, the branch secretary of Unison West Sussex, said: "These people are not people who are getting support to go down the Darby and Joan club for a cup of tea, they are people with significant needs.
"We think the proposals are poorly thought through and there will be a lot of people who fall through the cracks.
"We have found very few voluntary sector operators have been willing to speak out about it because they are afraid of losing their (council) funding."
The proposals come as parts of Sussex face severe challenges posed by a booming ageing population.
In West Sussex, there are 162,500 people aged 65 years or over, with 26,000 of these aged over 85.
Both councils, like most local authorities across the country, face tough choices when it comes to balancing the budget.
But John Barker, an information officer with Age UK Eastbourne, warned of the danger of going too far.
He said: "It's a cut in the wrong area and it will provide more costs in the long run.
'Very hard time'
"Inevitably, we do what we can and we put people in touch with other organisations where appropriate.
"But we don't have the resources to provide the care that the council decides it can't afford to provide.
"There is a balance between funding the more serious levels and also providing some level of support for others because if you don't the whole thing degrades into chaos."
Another fear is the potential impact on carers.
Liz Fenton, the chief executive of East Sussex support group Care for the Carers, said: "People are going to have a very hard time.
"I think most carers don't know about it yet and I think it will come as a shock to many people.
Both county councils have begun a consultation into the proposed cuts.
ESCC wants to hear from people in an online survey before 16 February, while WSCC is running a consultation until 3 February.