New gym to open at King Alfred centre in Hove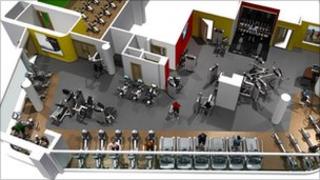 A new £450,000 gym is due to open at a Hove leisure centre which was to have been pulled down and redeveloped.
Brighton and Hove City Council pledged to invest in the existing King Alfred Leisure Centre building on the seafront when the redevelopment plans collapsed.
The old cafe has now been turned into a gym and dedicated spinning studio with revamped changing rooms, air conditioning and audio-visual system.
The gym opens on 24 January, followed by a celebration weekend days later.
It is part of a £1.6m programme of repairs and improvements to the building, which dates from 1938.
"We promised to improve the King Alfred in the current building and this is what we're delivering," said Councillor David Smith.
"This will become the biggest and best public leisure centre in the city."
The dilapidated centre was to have been replaced by two towers, designed by architect Frank Gehry.
The scheme, which included a new sports centre, flats, restaurants and cafes, collapsed when investors pulled out in 2008 because of the credit crunch.