Musicians release CD for Hastings Pier fund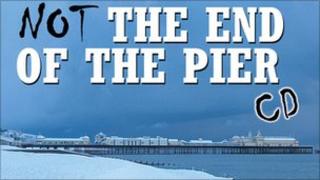 Musicians and songwriters from the Hastings area have released a CD to raise funds to help restore the town's pier after it was gutted by fire.
Not the End of the Pier is the brainchild of singer-songwriter Ian Edwards and DJ Andy Gunton and features 14 original compositions.
Proceeds will go to Hastings Pier and White Rock Trust (HPWRT), which wants to restore the structure.
The East Sussex pier suffered extensive damage in the fire on 5 October.
Mr Gunton said the aim of the CD was to keep Hastings Pier firmly in people's minds.
"The idea for a fundraising CD grew out of the immediate reaction to the fire of local musicians, many of whom had played on Hastings Pier in the past," he said.
"They all expressed a wish to do something to help raise much needed money."
HPWRT has two funds dedicated to the pier, one to pay for emergency work to safeguard the remaining structure and one for restoration.
Its target is to raise £800,000 to match funding which it hopes to secure from grant-making bodies.
Two men from St Leonards arrested on suspicion of arson at the pier have been bailed until later this month.