Woodland Trust opposes further South Downs oil drilling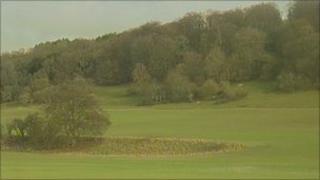 The Woodland Trust has vowed to oppose any further drilling at an oil well recently discovered under ancient woodland in West Sussex.
About £300m worth of oil has already been discovered by exploratory drilling at Markwells Wood in the South Downs.
Northern Petroleum said the site could yield nearly five million barrels of oil, and the results were encouraging.
The Woodland Trust said it feared the discovery could lead to further testing or extraction across the South Downs.
Christine Byrne, campaigns case officer for the woodland conservation charity, said it could "spell danger for other precious conservation sites".
In response, Northern Petroleum said: "Whatever the Woodlands Trust position, they did not attend the public planning meetings to represent their position and go on the record."
Further tests
The Sussex Wildlife Trust has also expressed a similar concern that the ancient woodland should be protected.
Spokeswoman Janyis Watson said: "We would really question what the value of this amount of oil is in this location and perhaps even what the oil would be used for.
"Will it be used to make things that end up in landfill so that we are then arguing cases against more landfill sites?"
Northern Petroleum was given consent to test for oil in 2008 by West Sussex County Council, and began drilling last November.
The move was opposed by Chichester District Council, the South Downs Joint Committee and the Woodland Trust.
Last week, the company said it would be carrying out further tests to determine the site's potential.