Flood plans to protect 1,500 Sussex homes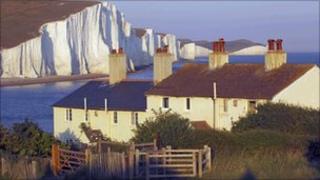 Plans to protect 1,500 homes on the East Sussex coast from flooding have been put out for consultation.
The Environment Agency wants to maintain defences along the River Ouse and coastline between Newhaven and Seaford as sea levels rise.
Spokesman Mark Douch said the possibility of restoring a floodplain near Newhaven had been investigated.
But he said that would cause extra water to flow through Newhaven, increasing erosion to river defences.
Mr Douch, flood and coastal risk manager for the agency, said: "With our climate changing and sea levels rising, the risks and the number of people affected are likely to increase.
"We have to take a long-term view of flood and erosion management for this stretch of coastline.
"We cannot prevent all flooding and erosion but we believe what we are proposing in this draft strategy is the best way to manage the risks."
The Environment Agency said 1,500 homes in low-lying areas would be at risk from flooding and coastal erosion without the flood defences.
People can comment on the draft Ouse to Seaford Head Coastal Defence Strategy until 15 February.