E.on cuts Sussex deli shop's electric bill after error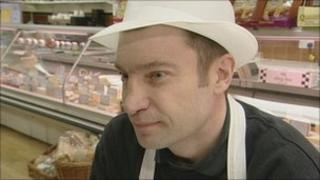 An electricity company has reduced by half an £18,466 demand it sent to a Sussex shop owner after wrongly calculating his usage.
Mark Allen, who owns a delicatessen in Uckfield, had feared he would lose his business after receiving the E.on bill.
He said the amount was a shock as he had made an effort to cut consumption.
E.on said the mistake was linked to his six-digit meter, which it thought had only five digits, meaning the readings were correct but the bills were wrong.
'Humble cheesemonger'
The energy provider had been reading his meter incorrectly for the past four years, leading to the demand for £18,466.97 last October.
Mr Allen said: "Through no fault of our own, through an incompetent energy supplier, we're being put under an awful lot of pressure."
He said he had not realised anything was wrong, especially given that his direct debits had reduced in amount, which he put down to being more energy efficient.
"At the end of the day I'm a humble cheesemonger and they're electricity retailing experts.
"They should be able to tell me what I'm using and take the money accordingly," he said.
Apologising for its mistake, E.on said it had looked into the matter and decided to halve Mr Allen's bill to £9,250.
"We are hoping to agree a payment plan over four years with Mr Allen," it added.
Mr Allen said he was both pleased and relieved.