Sussex wildlife worker sleeps with rescued hedgehogs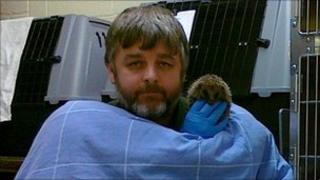 An animal rescue worker from Sussex has been bedding down with more than 50 hedgehogs to ensure they get food.
Trevor Weeks, founder of East Sussex Wildlife Rescue and Ambulance Service (WRAS), has stayed on site in Lewes while other volunteers are snowed in.
Mr Weeks is looking after 53 hedgehogs rescued during the snowy weather.
He said: "We can't risk the casualties not getting fed, watered or medicated so I will be staying here until it is safer for our volunteers to get in."
The UK has been experiencing the earliest widespread snowfall since 1993.
Elsewhere in Sussex, schools remain closed, train and bus services are running reduced services and police continue to advise drivers to only travel if necessary.