More arrests expected after Brighton student protest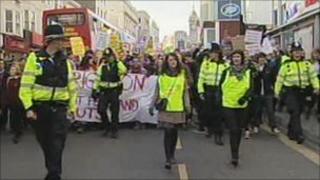 More arrests are expected in connection with student protests in Brighton over plans to raise university tuition fees, police have said.
Sussex Police said 250 officers were deployed and about 2,500 protesters took part in marches and disruption in the city on Wednesday.
Six people were held, five of them 15 and 16-year-olds from Sussex.
Towards the end of the protest, several groups entered Poundland in Western Road and stole property, police said.
Chief Supt Graham Bartlett appealed for anyone who witnessed criminal activity to contact them.
He said protesters who joined the planned march at Dyke Road Park and followed the agreed route caused minimal disruption and used stewards to direct protesters towards Victoria Gardens.
But protesters who were unconnected with the original march "hijacked" the protest at this point and a number of breakaway groups caused disorder, criminal damage and disruption in the city, said Mr Bartlett.
Two Brighton University buildings and the Town Hall were entered, but no damage was caused.
Officers said some objects including eggs and fireworks were thrown in North Street at two banks and outside a university building in Old Steine.
Students also caused disruption in the city centre around the Clock Tower, North Street and Churchill Square.
"Some people have expressed concern that there were children involved," said Mr Bartlett.
"The issue of whether children are allowed to take part is one for parents and carers.
"Should we believe a child to be at risk from significant harm, there are police powers under the Children Act to deal with that. That was not necessary during (these) events."
A 41-year-old man arrested on suspicion of obstructing and assaulting police was bailed to 17 December.
Three boys from Brighton aged 15 and 16 were also arrested, along with a 15-year-old girl from Worthing and a 16-year-old boy from Burgess Hill. All have been bailed to reappear next month.