Sussex Police mental health detentions 'intolerable'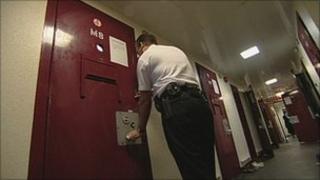 People in Sussex are being detained in police cells under the Mental Health Act two years after the practice was branded "intolerable", figures reveal.
Details obtained by BBC Sussex showed that 2,400 of those held between April 2008 and April 2010 were kept in custody and 800 were taken to hospital.
According to the code of practice which accompanies the act, cells should be used "in exceptional circumstances".
Sussex Police said it was committed to keeping the county safe.
The Independent Police Complaints Commission (IPCC) has described the situation as "intolerable".
A spokesman said: "The IPCC carried out research which we published two years ago, which found that twice as many people are detained in unsuitable police custody for assessment under the Mental Health Act as those taken by the police to hospital for this purpose.
"We said at the time that this was intolerable, and we would reiterate that today."
Police can make a section 136 detention when they find someone in a public place who appears to be suffering from a mental health disorder and who is in immediate need of care or control.
The figures released following a Freedom of Information request also revealed the number of people detained under section 136 of the act was much higher than neighbouring forces.
Section 136 arrests, where people were taken into custody between April and June 2010, accounted for 3.3% of all arrests in Sussex. The figure for Surrey Police was 0.81% and Kent Police 0.19%.
The Royal College of Psychiatrists said detentions should make up less than 1% of arrests.
There are a total of five hospital "place of safety beds" available to Sussex Police for the detention of people under section 136 of the act.
Supt Russ Whitfield, of Sussex Police, said: "Sussex Police is committed to keeping the people of Sussex safe.
"We continue to work in partnership with Sussex Partnership NHS Foundation Trust and together we strive to improve the services for people detained under section 136 of the Mental Health Act 1983.
"Our joint partnership arrangement sees us working to a protocol, which is subject to review."
Marian Trendell, of Sussex Partnership NHS Foundation Trust, said: "We always strive to improve.
"I would like to see the number of people detained in the first place reduced, and that more people come into our hospital place of safety [beds] as opposed to police custody."