Sussex students protest over tuition fee rise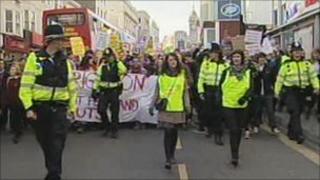 Thousands of students have been protesting in Brighton at plans to raise university tuition fees.
Sussex Police said about 3,000 students set off from various locations, including Dyke Road Park, towards Victoria Place.
Officers said small groups of protesters remained in the city centre and about 50 gathered near Brighton Pier.
A spokesman said the pier was closed for safety reasons at about 1830 GMT.
A 15-year-old boy was arrested outside Priory House, Bartholomew Square, on suspicion of breaching the peace.
A 41-year-old man was arrested on suspicion of assaulting a police officer.
Staff 'trapped'
Officers said some objects including eggs and fireworks were thrown in North Street at two banks and outside a university building in Old Steine.
Police said a small group of protesters entered council buildings at Priory House in the square about 1550 GMT, but have since been removed.
A group was also asked to leave the town hall by security and the doors have now been shut, officers said.
Students also caused disruption in the city centre around the Clock Tower, North Street and Churchill Square.
A spokesman for Brighton and Hove City Council said the local authority had been concerned for staff who were "trapped" in civic buildings.
"The proposals over student funding and university fees are in no way connected to the council," he added.
A force spokesman said there had been no reports of any damage or injury.
Students are protesting against plans to increase tuition fees in England to £9,000 per year and to withdraw public funding for university teaching budgets for many subjects.
Lines of police
Just after midday, students gathered at the University of Sussex, Brighton railway station and the University of Brighton.
Students also marched through Hastings town centre.
In London, lines of police have been holding back thousands of student protesters.
The protests and march have been organised by the National Campaign Against Fees and Cuts.
Ch Supt Graham Bartlett, of Sussex Police, said the organisers of the protest co-operated with police prior to the march and followed the agreed route.
He said: "Unfortunately a small group broke away from the organised march, causing minor disorder, criminal damage and disruption."