Second horse found dead in Alfriston field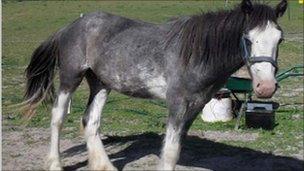 A horse has been found dead in East Sussex, close to where another horse was found in a field after being killed last month.
The latest discovery was in a field in Winton Street, Alfriston, on Wednesday.
Police investigating the death said there were no visible injuries and it was being treated as unexplained pending the results of tests.
The first horse, known as Rascal, had been deliberately injured in Kings Ride, Alfriston.
Rascal was found dead on 24 October.
The injuries to the 18-month-old cob were mostly internal and are thought to have been inflicted by a sharp object.
Rascal also had a large laceration on the face and neck.
Sussex Police said the deaths were not being linked.
Related Internet Links
The BBC is not responsible for the content of external sites.