Elderly face cuts to social care in West Sussex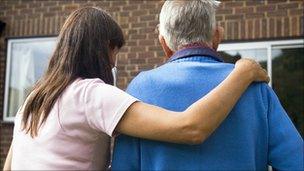 West Sussex County Council is to stop providing social care to people with "moderate level needs".
Instead, care will focus on those with "substantial or critical needs". About 4,500 residents currently receive moderate level support.
The council said it would bring the local authority in line with 75% of councils in England.
It has pledged to invest £750,000 a year to help the voluntary sector fund such activities as exercise classes.
A further £250,000 would be spent on improving day services.
Peter Catchpole, the cabinet member for adults' services, said: "We are facing significant budget pressures and we need to make changes so that we can continue to support people with the greatest needs."
A council spokesman said that while 4,500 residents receive moderate levels of care, many qualify for higher level needs at the same time and this would be unaffected.
The council has started to consulting residents affected by the proposals.
Related Internet Links
The BBC is not responsible for the content of external sites.