Man 'lucky to be alive' after Lewes firework accident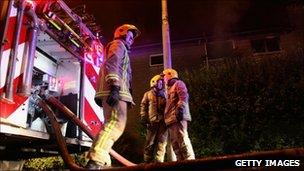 A 21-year-old man is recovering in hospital after being hit the chest by a stray rocket at one of the largest bonfire night celebrations in the country.
An estimated 40,000 people packed the narrow streets of Lewes in East Sussex to watch the historic celebrations.
The injured man suffered burns, fractured ribs and laceration to his lungs.
He was taken to hospital in Brighton for emergency chest surgery.
"He is extremely lucky to be alive after such a serious injury," said Dr Alan Pearce, one of six doctors and nurses working for the medical charity SIMCAS alongside the South-East Coast Ambulance and St John Ambulance services at the event.
"The Lewes bonfire celebrations are always a very busy time for the ambulance service and this incident highlights the very real dangers of fireworks."
Sussex Police described the evening, involving 400 officers, as "a huge success" overall and possibly "the biggest and best yet".
The event includes a procession through the town by local "bonfire societies".
Superintendent Tony Blaker said: "It is thought around 40,000 people attended this year's event and I am delighted to report that there were only 23 arrests and no serious incidents."
The Ambulance service dealt with 127 individuals, including 14 that needed hospital treatment. A total of 23 arrests were made, most for drunken behaviour, possession of class C drugs and a couple of minor assaults.