Asbestos found on fire-hit Hastings Pier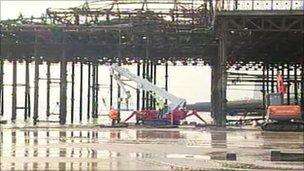 Specialists have been called in to remove asbestos from Hastings Pier nearly a month after it was destroyed by fire.
Contractors started work this week to remove dangerous debris from the pier in East Sussex.
Hastings council said asbestos had been found in the remains of one of the buildings and specialists were working to identify a safe method of removal.
The council said it wanted to stress that the pier was not being demolished.
Two St Leonards men, aged 18 and 19, have been arrested on suspicion of starting the fire, which began in the early hours of 5 October and took four days to put out, and have had their bail extended until December.
Council spokesman Kevin Boorman said: "I must stress that this operation is not about demolishing Hastings Pier, it is about removing loose debris and other material that is in danger of falling on to the beach below.
"Our contractors have identified that there is some asbestos in the remains of one of the buildings.
"They have already appointed specialist sub-contractors, and they are now working with the engineer to identify a safe method of removing this material.
"This is not being made any easier by the dangerous nature of the pier, particularly in the area where the asbestos has been found."
Air monitoring devices had been set up and no harmful airborne concentrations of asbestos had been found, he added.
Work to remove asbestos was being carried out in accordance with Health and Safety Executive requirements, he said.
He said the Health Protection Agency had advised there was no significant health risk from asbestos removal.
A "cherry picker" had been used to allow an engineer to look at the structure and identify a safe route across the pier to where the amusement arcade and bingo hall used to be.
Mr Boorman said a large crane was being operated from the beach to clear the debris.
Hastings Borough Council is carrying out the work under emergency powers.
The council has been unable to contact the pier's owner, Panamanian-registered Ravenclaw Investments.
Related Internet Links
The BBC is not responsible for the content of external sites.