Brighton holds 'manliest month ever'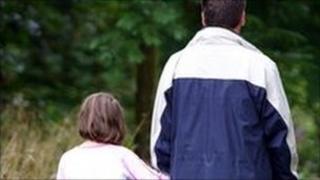 Men's issues are being highlighted in Brighton and Hove throughout November which has been designated "Brighton's Manliest Month Ever".
Men and women with stick-on moustaches will gather in the city on Monday to start the campaign.
Glen Poole, chairman of The Men's Network, said it was a chance to have fun and highlight important issues.
He said the city would mark International Men's Day on 19 November for the first time.
Seafront fun run
The "Tash Mob" on Monday coincides with the start of Movember - a campaign in which men around the world grow moustaches during November to raise awareness of men's health.
The hairy event has been organised by The Men's Network, a charity that was set up in Brighton in March this year.
It supports men and boys in the city in four key areas - health, education, fatherhood and relationships, and violence against men and boys.
This month, it will set up its third support group for fathers in Brighton and Hove.
Events during November include a conference looking at how to support male victims of rape and sexual abuse, and a Mid Sussex College debate on whether men experience sexism and discrimination.
The charity will play a role on Remembrance Day, by reflecting on the millions of men and women who gave their lives in service.
A photography exhibition at the Jubilee Library, Brighton Man & Boy, will show images of masculinity.
On 20 November, a "Tash Dash" will see contestants sticking on moustaches and taking part in a fun run on the seafront in Hove.
Mr Poole said: "The Tash is an ancient male symbol that's older than Jesus and because it comes in all shapes, sizes and colours, it perfectly represents men in all their hairy diversity.
"That's why getting people from lots of different backgrounds to come together to dash about in a Tash for men and boys' charities is a fantastic way to celebrate the male of the species."