Crazy golfers compete in Hastings world championship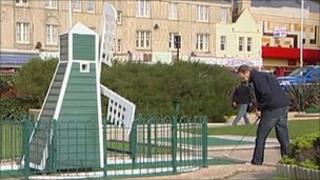 A world championship contest with lighthouses, windmills and waterwheels on the course has been taking place in an East Sussex seaside town.
The World Crazy Golf Championship was being held all weekend in Hastings, said to be the "spiritual home of crazy golf" by the Mini Golfer Association.
The annual event has been held in the town since 2003. Contestants complete six rounds of the course over two days.
Organisers said the event had become more and more popular each year.
'Crazy, crazy rules'
According to the Mini Golfer Association, the championship has been a popular event for film makers and has been featured in the TV show Grudge Match, the instructional DVD Nutters with Putters, and several graduate films.
For the first seven years, the contest was at two sites - the Arnold Palmer Crazy Golf and the mini golf courses.
In 2010, contestants are only playing on the crazy golf course because of building works.
Organisers said each player in a group had to finish a hole before the next player could play and, after six rounds, the top players went through to the finals.
But they added: "The finals are played under crazy, crazy rules."
Players come from around the world to take part but last year's tournament saw victories for England in the men's and women's tournaments.
The men's title was won by Keith "Doc" Kellard, while the ladies champion was Jo "Cup Cake" Williamson.