A sad end to the 'peerless pier' of Hastings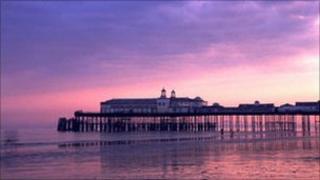 Hastings Pier survived wartime damage and fights between mods and rockers only to be destroyed by fire.
When it opened on Britain's first bank holiday in 1872, Hastings Pier was proclaimed as the "peerless pier".
It was a promenade for Victorian holidaymakers, while 20th Century visitors used the slot machines, bowling alleys and funfair rides.
Big names who performed on the pier include The Rolling Stones, Jimi Hendrix, Tom Jones and Cilla Black.
Fan Alan Honess said all the big acts of the day played at the ballroom in the 1960s and early 1970s and he saw The Who, Suzi Quatro, Hot Chocolate and The Hollies there.
"The atmosphere was always brilliant - when The Who played the whole place shook so much I was amazed it didn't fall down," he said.
Hastings Pier was originally 910ft (280m) long, with cast iron columns supporting a girder framework, topped with wooden decking.
At its opening on 5 August 1872, the Earl of Granville called the structure "a peerless pier - a pier without a peer".
Pam Shallcrass, who was born in Hastings, has fond memories of the pier: "My favourite place to go as a little girl was on Hastings Pier. I took my own kids there many times. Today is a very sad day."
Paul De Boiaire lives in Hastings and witnessed the fire.
"I played bingo there quite often until they closed it, took my American partner there to see their very first UK pier. It is painful to witness such destruction of such a grand place", he said.
The design was based on the ill-fated Brighton West Pier which also succumbed to fire, in 2003, after parts of it had crumbled into the sea.
German landing platform
Over the years Hastings Pier survived a pavilion fire and storm damage. During World War II a section was demolished to stop it being used as a landing platform by invading Germans.
In 1976 the pier was given Grade II status, but by the 1980s had fallen into financial difficulties.
In June 2006 the pier was closed over fears that it would collapse. The Hastings Pier and White Rock Trust found in a study that £8.3m would be needed for repairs to the substructure and phase one of the top deck renovations.
Hastings Borough Council agreed in July 2010 to go ahead with a compulsory purchase order of the pier from its Panama-based registered owner, Ravenclaw.
Writing on the Save Hastings Pier Facebook page, Emma Hutchins said: "My family have been regular visitors to Hastings since the 70s (maybe earlier) I have many memories as a kid on that pier. "
Fred Bennett, also writing on Facebook, said; "It's very sad to finally see the pier go, but it has been depressing passing the derelict old thing every day. Now we have a real chance of building a new 21st Century pier."
Kelly Holloway said: "I have always loved the pier.
"In my school days we had 'Coasters' night club for teens on the pier and when my friend died we spread his ashes off that pier."
Will Taylor said its destruction was a real tragedy for the town.
"I had hoped that one day I could take my daughter to a restored pier; sadly it looks like this will never happen."