Tribute to boy who died after choking at Sussex school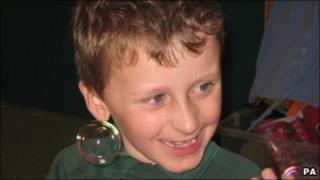 The family of a seven-year-old boy who died after choking during a meal at school in West Sussex said he would be remembered as "a very happy boy".
Matthew Russo was taken to hospital after the incident at Manor Green Primary School in Ifield, Crawley.
He died on Wednesday night at St George's Hospital, south London, where he had been treated for two weeks.
"Matthew was a very happy boy, full of life, who always made us smile," his family said in a statement.
"We will miss his lovely bright blue, twinkling eyes, his beautiful smile and wonderful presence.
"Matthew was an important part of our family and everyone who met him loved him dearly."
'No-one to blame'
Matthew was airlifted to hospital in a critical condition on 15 September and admitted to the paediatric intensive care unit at St George's Hospital.
The school's acting head teacher Ginny Marshall described him as "a quiet, gentle little boy who loved school" and who would be missed by everyone.
In a statement released through Sussex Police, Matthew's family said his death had been a very tragic accident "with no blame to be apportioned".
"The emergency services on the scene were amazing and the support from hospital staff, Manor Green School, family, friends, the police and the general public has been overwhelming," the statement said.
Manor Green caters for children aged between two and 11 who have learning difficulties and additional needs.