Boy dies after choking at school in Crawley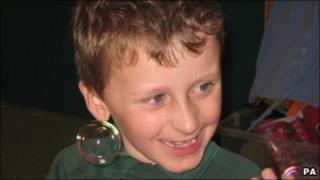 A seven-year-old boy has died in hospital two weeks after choking during a meal at a school in West Sussex.
Matthew Russo was taken to hospital after the incident at Manor Green Primary School in Ifield, Crawley.
West Sussex County Council said he died on Wednesday night at St George's Hospital, south London, where he had been treated for two weeks.
The school's acting head teacher Ginny Marshall said Matthew would be missed by everyone. An inquest is expected.
'Special child'
Matthew was airlifted to hospital in a critical condition on 15 September and admitted to the paediatric intensive care unit
"Matthew was a quiet, gentle little boy who loved school," said Ms Marshall in a statement.
"He loved looking at books, playing in the water and dancing to his favourite music. He was a very special child."
Manor Green caters for children aged between two and 11 who have learning difficulties and additional needs.
Ms Marshall said staff would be supporting children as they came to terms with Matthew's death.
"There will be chances to talk to their class staff as they need to, and in due course we will hold a special assembly to remember Matthew," she said.
"We are keeping Matthew's family and friends in our thoughts and prayers."