Ban for Sussex animal cruelty pig farmer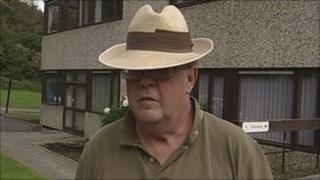 A farmer whose pigs were left in such squalor that some of them turned to cannibalism to survive has been banned from keeping the animals.
Keith Barnett, 60, from Pevensey, East Sussex, pleaded guilty to seven charges of animal cruelty at Hastings magistrates earlier this month.
The Happy Pig Company owner admitted leaving his pigs without food or water.
Inspectors from the Animal Health Agency and Trading Standards raided the site in January.
Gareth Jones, from East Sussex County Council, said a number of the pigs were very clearly underweight.
Animals 'starving'
"It's very unusual for pigs to actually be reduced to eating other pigs.
"They were starving. They didn't have any food or very little water or anywhere to sleep, and it did look as though the pigs that had been left lying there had actually been eaten," he said.
Barnett rented the smallholding in Pevensey four years ago and advertised his firm as selling "high quality pork from well-kept pigs" to farmers' markets.
At a previous hearing, Hastings magistrates heard how Barnett had suffered a heart attack and had been unable to look after the pigs.
On Wednesday, the court imposed a five-month curfew on him between the hours of 1900 and 0700, which would be electronically monitored.
He was also ordered to pay £880 costs and was banned from keeping pigs.
However, Barnett was told he could keep his 12 chickens as there had been no deliberate act of cruelty.