Killed vicar helped at Sussex church after gun offence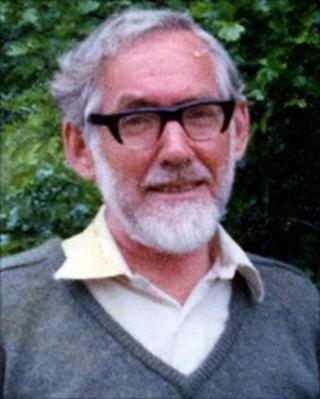 An East Sussex vicar who is believed to have abused a former altar boy was allowed to serve at a church despite being convicted of possessing a gun.
The Reverend Ronald Glazebrook died in 2001 after being punched by Christopher Hunnisett, 26, who said the 81-year-old sexually abused him in the bath.
Mr Hunnisett was cleared of his murder following a retrial earlier this month.
Mr Glazebrook worked at the church in St Leonards in 1983 despite a receiving a firearm conviction in 1980.
A source told BBC South East's home affairs correspondent Colin Campbell that Mr Glazebrook had served at Christ Church, St Leonards, after previously being suspended.
He was only allowed to return to churches on the condition he was under close supervision, the source told Mr Campbell.
The Church of England has been unable to confirm or deny whether he was suspended and said his case file had disappeared.
It has promised to launch an investigation into the matter.
Archdeacon of Hastings and Lewes the Venerable Philip Jones said: "We are very concerned indeed of course for all those who turn out to be the victims of Ronald Glazebrook."
During the murder trial at Lewes Crown Court the jurors were told of other earlier allegations of abuse by Mr Glazebrook.
One man said he had been abused in similar circumstances to Mr Hunnisett on sailing adventures while he had been a church server in the 1940s.
Rumours that Mr Glazebrook carried out abuse while working at a school in Rhodesia - now Zimbabwe - in the 1960s were also disclosed to Mr Hunnisett's defence team.
Mr Jones added: "As far as this diocese is concerned we have no knowledge and had no knowledge as far as I can tell in terms of any information about his past.
"When he came to the diocese in 1983 that was before the institution of a much improved system of clergy record keeping.
"We need to remember that we are talking of events 30 years ago when there were not the same stringent checks that are in operation now."
'Name tarnished'
He added: "As far as I know we have no documentary information as to what happened in 1983 when Ronald Glazebrook came to this diocese."
During the trial the court was told Mr Hunnisett admitted punching Mr Glazebrook before locking himself in his bedroom.
He said he had found the vicar's body in the bath the following day.
The Court of Appeal quashed his 2002 murder conviction because of new evidence earlier this year and ordered the retrial.
During the retrial, Mr Hunnisett was accused of killing Mr Glazebrook, dismembering the body and leaving the remains at woodland locations across East Sussex.
He was cleared of murder and an alternative charge of manslaughter on 17 September.
Following the verdict, Judge Mr Justice Keith said Mr Glazebrook's name had been "tarnished" in court and that he "may well have been a discredit to the clergy".