Katie Price denies texting while driving pink horsebox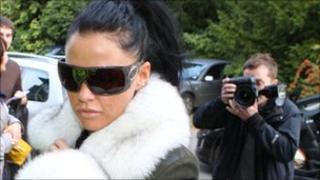 Glamour model Katie Price was seen using a mobile phone while driving a pink horsebox in Sussex, a court heard.
Two vehicles had to take evasive action as she drifted into their lane on the A23 in Bolney on 19 February, Mid Sussex Magistrates' Court was told.
Patrol car officers said they saw her on the phone for up to three seconds.
Ms Price, who denies not being in proper control of a vehicle, said the horsebox drifted into another lane because she was a "woman driver".
She said there was no reason for her to use her phone because the horsebox was equipped with hands free bluetooth equipment.
When she was asked why she veered, she told the court: "Because I'm a typical woman driver.
"I'm just not used to a lorry that big. I was probably a bit scared because it was on a motorway.
"I don't remember veering but it is quite difficult."
Asked what it was like driving the horsebox, she replied "It's massive. It's not that easy. It's quite a big vehicle, it's like a boat."
Earlier Pc Phillip Mann, of Sussex Police, told the court he saw Ms Price making a texting motion on an iPhone-type handset before pulling her over.
But the model, who was driving the horsebox with her husband, cagefighter Alex Reid, told the officer it was not a phone but a perfume bottle, the court heard.
Pc Mann said he reported her before allowing her on her way.
'Proceedings defective'
The court was shown footage filmed by police apparently showing Ms Price veering slightly across the carriageway while at the wheel of the horsebox.
During cross-examination, defence lawyer Nick Freeman, nicknamed Mr Loophole, put forward a submission that the proceedings were "defective".
He argued that Ms Price should not be convicted because she was told at the time that she was being reported for using a mobile phone while driving and driving without due care and attention.
Mr Freeman said she was not told either at the time or within 14 days afterwards that she would be summoned to court for not being in proper control of a vehicle.
The case continues.