Ex MP Nigel Waterson wins damages from Met Police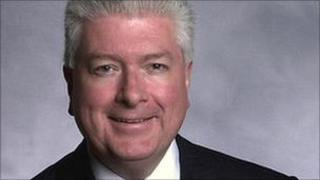 A former MP who was arrested on suspicion of assaulting his teenage son and daughter has received damages and an apology from the police.
Solicitor Nigel Waterson, who used to be the Tory MP for Eastbourne, East Sussex, was arrested at his south-east London home in January 2008.
He was later bailed and then informed that no further action would be taken.
The Metropolitan Police Service (MPS) said it had apologised and paid undisclosed damages to Mr Waterson.
On Friday, Mr Waterson revealed the contents of the letter of apology, which said the allegations against him were "wholly unfounded".
The former MP also issued a statement which said: "I welcome the apology from the Metropolitan Police. They now accept that there was no basis for my arrest.
"I have always been a great supporter of our police. But this sort of incident can undermine the public's faith in them, especially as at the time my arrest was leaked to the media.
"My family and I can now put this distressed episode behind us."
'Wrongful arrest'
The letter dated 2 August 2010 from Det Ch Insp Adrian Baxter, of the force's directorate of professional standards, said: "Mr Nigel Waterson was arrested at his London home on the evening of 27 January 2008.
"As a result of subsequent inquiries, and in hindsight, the MPS accepts that Mr Waterson had done nothing wrong and had the full facts been available at the time, then Mr Waterson would not have been arrested.
"The MPS accepts that the allegations against him were wholly unfounded. The MPS would like to apologise for any distress caused. The MPS has also agreed to pay undisclosed damages and costs."
A further statement from the Metropolitan Police on Friday said: "The MPS has settled a civil claim brought by Nigel Waterson for wrongful arrest and false imprisonment on 27 January 2008.
"The MPS has not admitted liability. We consider the matter to be concluded."
Mr Waterson was elected Tory MP for Eastbourne in 1992 and was defeated by Liberal Democrat Stephen Lloyd in the general election this year.