Albion's Falmer stadium museum plan gets go-ahead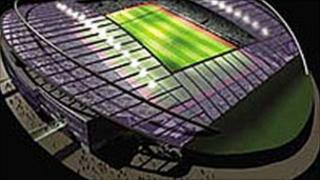 Plans to build a museum, offices and a bigger shop at Brighton and Hove Albion's new stadium have been agreed.
Brighton and Hove City Council gave the go-ahead for the football club to build two new floors in part of the 22,500-seater ground in Falmer on Wednesday.
The club hopes the museum, which would house memorabilia and archaeological artefacts found during construction, and bigger shop will create 20 jobs.
The stadium is due to be completed in May 2011 at a cost of £93m.
'Create more jobs'
Councillor Lynda Hyde said: "This application makes no detrimental difference to the stadium's impact or appearance, yet it does add interest and enhance its viability.
"We also estimate it would create 20 more jobs. So I feel most objective people would feel we're right to support it."
The two new mezzanine floors will be constructed in the North Stand.
In June the club said its 14 corporate boxes had been snapped up, as well as about half of its 2,500 luxury seats.
Brighton and Hove Albion have been without a stadium since their former home closed in 1997 and was then sold.
The initial planning application for stadium on land north of Village Way, in Falmer, was submitted to Brighton and Hove City Council in 2001.
It was accepted by the government in July 2007 after a High Court challenge and two public inquiries and construction began in December 2008.