WWII airman leaves £50,000 to Blond McIndoe foundation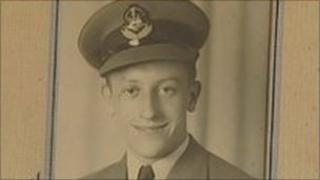 A World War II hero who suffered serious facial burns while flying for the RAF has left £50,000 in his will to a medical research centre in Sussex.
Flt Lt Charles Davidson, 87, died at his home in Eastbourne in February.
He became a member of The Guinea Pig Club after his injuries were treated by a pioneering surgeon at the Queen Victoria Hospital in East Grinstead.
The money was left to the Blond McIndoe Research Foundation, based at the hospital.
Distinguished award
The foundation is the legacy of renowned plastic surgeon, Sir Archibald McIndoe, who pioneered new treatments for badly burned World War II airmen.
A cheque for £50,000 was presented to the centre on Wednesday.
Jacquie Pinnet, chief executive of the foundation, said it would be used to employ two new members of staff.
Flt Lt Davidson was an RAF navigator in the 464 Mosquito Squadron.
He flew 69 missions and was awarded the Distinguished Flying Cross (DFC).