Kent police officer to cycle coastline of England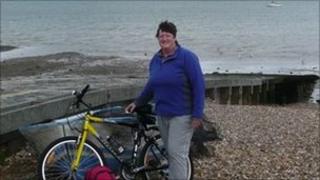 A Kent police officer has begun a charity challenge to cycle the length of the English and Welsh coastline.
Insp Pat Geary has already clocked up 2,600 miles (4,180km), completing sections of the journey during her annual leave.
The 53-year-old is raising money for The Stroke Association in memory of her father, Richard Geary, who died of a stroke in 2002.
Mr Geary served as an officer with Kent Police for 28 years.
"The challenge has taken a huge amount of organisation on my part as I'm cycling alone and have no additional practical support," said Insp Geary.
"I've also cycled through some extreme weather including heavy snow, gale force winds, rain and flooding."
Insp Geary joined the police force almost 28 years ago and has served in Ashford, Dover, Folkestone and Maidstone.