Sussex Police suspends recruitment of support officers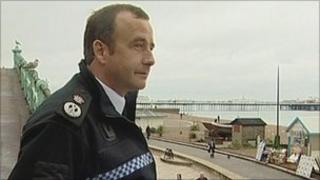 A force has suspended the recruitment of police community support officers (PCSO) as a result of spending cuts.
Sussex Police said 116 potential recruits had been told their applications for jobs with the force had been withdrawn.
A further 47 will be retained in a recruitment pool to be considered "as and when the need arises".
The force earlier announced plans to cut more than 1,000 police officers and staff over the next five years.
Chief Constable Martin Richards said job cuts were inevitable as the force faced estimated budget cuts of £52m by 2015.
'Incredibly disappointed'
About 500 of the affected jobs would be police officers, he said.
Forces across the country have been making predictions of similar job losses ahead of next month's comprehensive spending review.
In a statement on Wednesday, the chief constable said he recognised the PCSO recruits would be "incredibly disappointed".
He said: "I hope they understand this situation is not of our making and I would urge them to reapply once we re-open the door for recruitment.
"Unfortunately at this time I cannot say when this will be.
"We remain dedicated to local policing, but know we are unlikely to be able to employ as many new Pcso recruits in the foreseeable future."