National Trust history bid for disappearing Birling Gap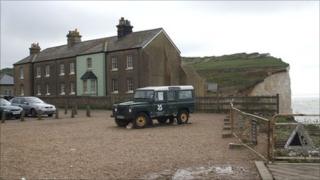 Residents near cliffs threatened by erosion are being invited to share their memories of one site which is being left to fall into the sea.
The National Trust, which now owns most of Birling Gap in East Sussex, is holding an open evening on Wednesday.
It said the project was to document the past, but a resident has accused the charity of destroying the community.
Stephanie Fawbert said she feared the charity would create a false history, but the trust denied the claim.
Ms Fawbert, whose mother led a campaign by thousands of residents to save the Gap, said: "They destroyed the community."
She added: "I don't want them to create a false history."
And she said: "All the things that made this place special, they have been slowly removing and putting up the acorn placard and turning it into another National Trust generic place."
But Natasha Sharma, National Trust education warden, said: "We are not thinking of producing a National Trust history of the Gap.
"All we want to do is give visitors and residents something of the past to help the site in many different ways."
She added: "We have archaeological sites falling into the sea.
"We need to document everything we can find out, before it disappears."
She said: "All I have done is listen. I am still going to listen before anything gets produced."
The first of the coastguard cottages at Birling Gap was demolished in the 1970s, because the property was on the edge of the eroding chalk cliff.
In 1982, the National Trust bought land at Birling Gap including some of the buildings on the site, although some cottages are still privately owned.
In 1999, a public inquiry was held in which campaigners fought for coastal defences and the National Trust successfully argued against them.
The National Trust began an oral history project earlier this year when the charity took back full ownership of the Birling Gap Hotel after the previous tenant retired.
Under the project, memories of Birling Gap will displayed as part of visitor information at the hotel.