Diseased elm tree outside Lewes law courts to be felled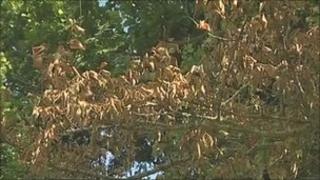 A large elm tree is to be felled in East Sussex after Dutch elm disease was identified by specialists.
Work is due to take place on the tree, which is located outside the law courts in Friars Walk, Lewes, this week.
East Sussex County Council said once the tree was removed the surrounding wall would be reinstated.
It said due to the existing root system below the pavement, it would not be possible to replace the tree, but other plants would be considered.
The work is scheduled to take place on the Tuesday and Wednesday evenings, after 1900 BST.