Beef prices force East Sussex farmer to sell up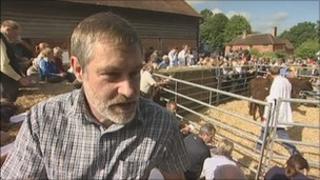 A cattle farmer from East Sussex has said he has been forced to sell up because he cannot make enough money from producing beef.
David Burke, of Allens Farm, Five Ashes, has been auctioning his herd of cattle, along with the farm, machinery and more than 100 acres of land.
He has owned the farm for 13 years, but says he has never earned anything as beef prices are too low.
"We simply don't get enough money for our outputs to cover costs," he said.
"Relatively small changes don't make that much of a difference. For us we would need quite large increases in prices to make us profitable," Mr Burke added.
Cereal price
It had been his dream to run a farm after working in the City, but now he has decided to retire to Devon.
The National Farmers Union (NFU) said it feared more farmers would follow if supermarkets did not reward them with more money for their beef.
Spokesman James Mulleneux said: "Beef producers are getting roughly 14 pence per kilo less than they were the equivalent time last year, and clearly that's not sustainable.
"Also we're seeing massive increase in the cost of production - the global cereal price has gone through the roof because Russia has put an export ban on their wheat supplies, and hence the feed costs, and also the fodder costs for beef producers have increased considerably."