Stig's helmet expected to fetch £1,200 at Lewes auction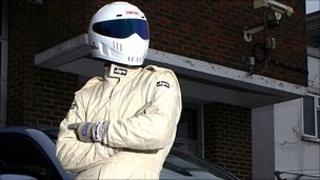 A distinctive white helmet worn by Top Gear driver The Stig during the BBC show is expected to fetch up to £1,200 at auction in Sussex.
It is being sold by Sophia Vaizey, 30, of Hove, who worked on the show for 18 months as a production co-ordinator, and received it as a leaving present.
The helmet was signed by The Stig, who wore it between 2002 and 2005, presenter Richard Hammond and the crew.
It will be auctioned at Gorringes in Lewes, East Sussex, on 20 October.
'Felt honoured'
Mrs Vaizey said: "Selling the helmet has been something that has been on my mind for a while.
"But I'm looking to buy a house and this has been stored in a cupboard at my mum's house while I have been travelling around and living in different places.
"I'm quite a sentimental person and I don't want to let go of it, but as my family have said to me it might not be worth anything in 10 years' time."
She added: "The Stig wore that one on the show for quite a while. He then got a new one for safety reasons, so it got stored away in the Top Gear office.
"I was quite surprised when they gave it to me but also I felt honoured."
Mrs Vaizey said working on the show was probably the most fun job she had ever had.
Stig's identity
The Stig is famous for his racing overalls and dark-visored helmet.
Last week the High Court in London refused to grant the BBC an injunction blocking the publication of a book which claimed to reveal his identity.
The book, called The Man In The White Suit, claims former Formula Three driver Ben Collins is the mystery driver on the BBC Two show.
The first Stig, Perry McCarthy, was dropped in 2003 after his identity was uncovered.
Several racing drivers have been linked to the role, including former Formula One world champions Damon Hill and Michael Schumacher.