Battle bonfire procession 'free-for-all' is banned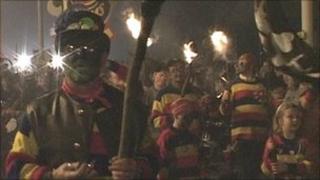 People will no longer be able to take part in a Sussex bonfire parade unless they become members of the local society, it has been announced.
Traditionally, members of the public have joined in at the end of the 400-year-old Battle bonfire celebration, which is held on 6 November this year.
This autumn all participants in the bonfire procession will have to pre-register with Battel Bonfire Boyes.
Matt Southam, of Battel Bonfire Boyes, said the aim was to make it safer.
He said it was a completely free event and anyone could still turn up and watch.
He added: "We have a responsibility and obviously we need to keep a control on the event and ensure what's going on and we know who is being involved at our event.
"What we've always done in the past is run a fancy dress competition. People in fancy dress are able to join in the end of the procession round the town and down to our fire site.
"All we're asking now is that we just want members of our own society, and obviously the visiting societies that we invite, to be involved in this."
Effigies burnt
Mr Southam said: "We have a responsibility both towards people in the procession and members of the public.
"We don't just want any Tom, Dick or Harry just joining in. It's really just about protecting the future of our event.
"What we can't afford to do is have an incident and not know who this person is. We want to protect its future by knowing who's involved and what's going to happen."
The town's bonfire celebration sees hundreds of people carry 1,066 flaming torches through the medieval streets to Senlac Hill where William defeated Harold in 1066.
An effigy of a celebrity, politician or someone in the public eye is also lit during the evening.
Previous effigies at the Battle bonfire have included Sarah Palin, Tony Blair and Gordon Brown as Punch and Judy, Margaret Thatcher, John Major and Neil Kinnock.