Fuel clues sought over burnt body in Sussex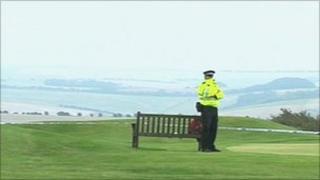 Police investigating the murder of a man whose body was set alight and dumped at a golf course near Brighton have been visiting petrol stations.
The remains of Stefan Welch, 37, who lived at the Phase One hostel in Oriental Place, Brighton, were found at the Dyke Golf Club on Saturday.
Officers said Mr Welch probably died from a blow to the head.
They have been gathering petrol samples for analysis to find where the fuel used to burn the body was bought.
Det Ch Insp Trevor Bowles said they also needed to identify where the murder actually took place.
"Forensics suggest that it was not at the site where the body was dumped and burned," he said.
Sussex Police identified Mr Welch after a forensic sample sent for analysis provided a match on the DNA database.
They said that at about the same time they also received a call from someone who recognised the description issued.
Officers are now trying to establish his last movements, and would like to hear from anyone who saw or talked to Mr Welch between Wednesday and Saturday last week.
'Covered in blood'
He was last seen at 1430 BST on Friday.
Det Ch Insp Bowles said: "It is almost certain that he would have been transported to Devil's Dyke Road by a vehicle and we would still be interested to learn of any suspicious vehicles parked or being driven in the area.
"Stefan was subjected to a particularly violent attack and his killer has gone to great lengths to cover up the crime.
"However, the chances are that his attacker - or his clothes - would have been covered in blood and my view is that someone, somewhere has the information that will lead us to them."