Sussex vicar Alex Brown jailed for sham marriages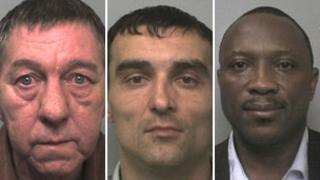 A vicar has been jailed for four years for carrying out hundreds of fake marriages to bypass immigration law.
The Reverend Alex Brown conducted 360 sham marriages during a four-year period at the Church of St Peter and St Paul in St Leonards, East Sussex.
Co-defendants Vladimir Buchak, 33, and solicitor and pastor Michael Adelasoye, 50, were also jailed for four years.
The Crown Prosecution Service said it was thought to be the largest sham marriage case yet brought to court.
The trio were found guilty at Lewes Crown Court in July of conspiring to facilitate the commission of breaches of immigration laws.
'Happy to exploit'
Judge Richard Hayward also handed Brown a five-month sentence for solemnizing a marriage without the banns being published.
The two sentences will run concurrently.
The court heard Brown presided over the marriages of hundreds of mainly African men to Eastern European women at his small parish church.
Buchak, of Anglesea Terrace, St Leonards, was responsible for paying women up to £3,000 to take part in marriages of convenience.
Adelasoye, of St Matthews Drive, St Leonards, used his knowledge of the law to help illegal immigrants with applications to the Home Office.
Earnings for the church rocketed from £1,000 before the hundreds of marriages occurred, to around £22,000 for the first six months of 2009.
The men had usually arrived lawfully in the UK but had exhausted the appeals process in applying to stay permanently.
Investigators from the UK Border Agency said Brown, Buchak and Adelasoye were "happy to exploit and take advantage of other people's desperation for their own ends".
During the trial, Brown insisted he only ever married couples he was sure were getting married for the right reasons.
But although prosecutors said Buchak was the principal organiser, Brown must have been aware that the majority of the weddings he was conducting were shams, they said.
Throughout the trial Brown denied being manipulated or controlled by anybody or being involved in the scam for financial gain.
Buchak, a Ukrainian national, had been living illegally in the UK since 2004.
He was responsible for "cajoling and persuading" the Eastern Europeans into the marriages of convenience.
Documents found by investigators had been altered to show that most of the hundreds of people he had married appeared to live in the streets surrounding the parish with several brides and groom registered in the same property.
Most of those involved had also given false addresses.
Judge Richard Hayward told Brown his role was pivotal to the conspiracy.
He said: "Without you this conspiracy would never have been able to come into effect.
"The couples involved beat a path to St Peter's because both they knew and you knew what was going on, and you were happy to play your part."
Outside the court, the Bishop of Lewes, Wallace Benn, said a review was being conducted into procedures within the diocese.