Burnt body found on Sussex golf course was that of man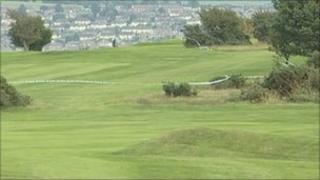 A young man was murdered and dumped at an East Sussex golf course before his body was set alight, it is believed.
Golfers found the badly burnt body in undergrowth at the Dyke Golf Club on the outskirts of Brighton, East Sussex, just before noon on Saturday.
Sussex Police started a murder inquiry and trawled missing person reports in a bid to identify the victim.
It is believed the man was killed elsewhere and that his body had been at the course for no more than two days.
Det Ch Insp Trevor Bowles said on Sunday that initial suspicions that the victim had been mutilated and had a foot removed proved false.
Two tattoos
He said experts now believed the man's leg below the shin had been eaten by animals.
The man, about 5ft 6in tall and possibly aged in his late teens or 20s, had two tattoos, both on his upper arms, one of which was unfinished.
"We believe that the person has been killed elsewhere and brought to the scene here and set alight," said Mr Bowles.
He said it was difficult to be sure about the man's age because of the extent of the damage to the body.
"Most importantly for identification purposes, there are two tattoos both on his upper arms and one of them was unfinished," he said.
"I would ask people to put these things together - a missing young man, fairly slightly built, who has gone missing in the last few days."
He said police also wanted to hear from anyone who may have seen a fire or smoke near the golf club at any time between Thursday afternoon and Saturday morning.
A post-mortem examination is to be carried out in Worthing on Sunday afternoon.
Mr Bowles said the body had injuries which led police to believe he was murdered, but it was difficult to say what weapon was used.
He was also unable to say whether the man was clothed or naked.
"This is going to be a detailed investigation to establish how this young man met his death and to find his killer," he added.