Chinese tree flowers at Wakehurst after 23 years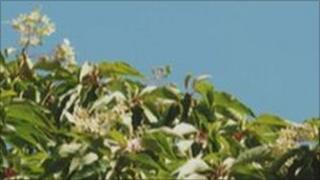 A rare Chinese tree has flowered for the first time in 23 years at Kew's country estate in West Sussex.
The Emmenopterys henryi at Wakehurst was the first of its type to flower in England in 1987, the year of the Great Storm which hit southern England.
Horticulturalists say the cold, snowy winter and hot summer of 1987 were similar to the conditions this year.
But they say they do not see the white flowers on the tree as a forecast of another great storm.
The deciduous tree, a native of central and south-west China, was introduced in Britain in 1907.
It has reddish-purple young shoots and striking red leaves in spring, which mature to a glossy green.
There are few mature specimens in the UK, mostly in Cornwall.
"Flowering is extremely uncommon in Britain, and none had flowered in this country until the tree at Wakehurst produced a few flower heads in summer 1987", said Dr Chris Clennett, Wakehurst gardens manager.
"Our tree has not flowered since."
The winter of 1986/7 saw temperatures of -9C followed by highs of 32C in June and 34C in July.
"These conditions have not been mimicked until 2009/10, when we saw a long snowy winter once again," said Dr Clennett.
"Temperatures dropped to -8C at Wakehurst, and once again were followed by highs of 30C in June and July.
"This combination seems to have triggered flowering and this year there are many sprays of beautiful white flowers, nestling in amongst white bracts, basking in the sun at the very top of our tree."