Hastings 'not resilient', Experian research suggests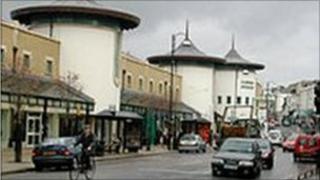 Hastings has the second highest proportion in England of employees working in vulnerable sectors, according to BBC-commissioned research.
The East Sussex borough has 42.6% of public sector workers, compared with just 11.7% in Crawley, West Sussex.
The research noted Hastings had high crime rates and low house prices.
The BBC-commissioned research, carried out by Experian, ranks the resilience of English council areas to economic shocks, such as public sector cuts.
It suggests that Hastings has the 11th highest number of vulnerable sectors, and hardly any valuable office space.
This compares to Mid-Sussex, which has some of the highest "business resilience" in England, with a number of high-growth sectors and a high number of people employed in resilient sectors.
It has the 11th highest proportion of self-employed people in England, with the research suggesting that the local business base has proved resilient towards the impact of recession.
Councillor Jeremy Birch, leader of Hastings Borough Council, described the research "as a still snapshot based on desktop statistics".
"We work within a constantly moving picture and this snapshot from Experian does not look at the impact at the university with its next phase just being constructed or the sensational Jerwood Gallery currently being built or the hopeful occupation of high quality office space in the town centre.
"We, of course, recognise all these things in the snapshot but take that photo again in two two years' time and many things will have changed.
"In the meantime we need continued investment from central government to maintain that progress," he said.
Elsewhere in Sussex, the BBC-commissioned research found Brighton and Hove performed comparatively badly in terms of "community resilience", with the rate of people claiming benefits high, and pockets of deprivation.
The data suggests that social cohesion across the city, where respondents were asked if neighbours "look out for each other", is low.
This compares to Wealden, where "community resilience" is particularly high, there are no areas of deprivation, and few people are vulnerable to long-term unemployment.
The area has the seventh highest proportion of self-employed people in England.
The issues raised in the South East and South debates will be discussed, along with the findings of the research, on Friday on BBC Sussex, between 0900 and 1000 BST.