Malnourished dog found abandoned in West Sussex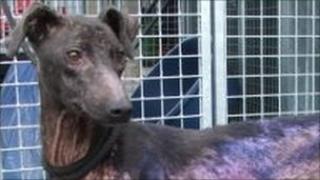 An animal welfare charity has released a photograph of an emaciated lurcher found abandoned in West Sussex.
The dog, which has been named Apple, was discovered by Greyhound Rescue West of England (GRWE).
The animal was malnourished, coated in mange and covered in agricultural spray, leaving a purple spray paint on his body.
The charity said the treatment was "horrendous and inhumane" but hoped the dog would make a full recovery.
Emily Burns-Sweeney, the charity's regional homing officer, said: "This is the cruel reality of how some dogs end up when abandoned and no longer wanted by their owner.
"We hope he can be found a new and loving family who will provide him with the life he deserves."