Murder accused killed Sussex vicar 'to stop sex abuse'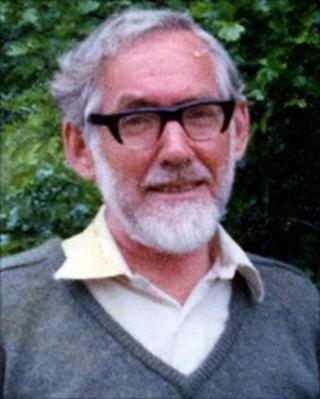 A young lodger killed an 81-year-old vicar in his home and then dismembered his body because of his sexual abuse, Lewes Crown Court has heard.
Christopher Hunnisett allegedly drowned the Rev Ronald Glazebrook in the bath at the churchman's home in St Leonards, East Sussex, in April 2001.
Prosecutor Philip Katz said that Mr Hunnisett, now 26, who denies murder, was going to claim he was trying to stop the vicar sexually abusing him.
The court heard the case was a retrial.
In March the Court of Appeal quashed Mr Hunnisett's original 2002 conviction for murder.
'Wholly unlikely story'
Jurors were told Mr Glazebrook was an "independent spirit" who helped many people with issues and offered the defendant lodgings when he learnt of the teenager's problems with his parents.
The court heard Mr Hunnisett, then 17, had a free run of the ground-floor flat and use of the vicar's boat, which was moored at Newhaven Harbour.
Mr Katz said the arrangement broke down and the teenager physically abused Mr Glazebrook.
He told the court: "There is evidence that the relationship between the deceased and the defendant had deteriorated to the extent that the priest wanted the defendant out of his flat and the defendant knew that."
Mr Katz said there was no suggestion of sexual abuse during the original trial and Mr Hunnisett was introducing a "wholly unlikely story" at his retrial.
"Throughout the entirety of the first trial in 2002 this defendant specifically denied that there was anything sexual about his relationship with the Rev Glazebrook.
"However, as the Crown understands it, the position has changed.
Bloodstained boat
"Now he is going to say that he was sexually abused by the Rev Glazebrook and the death of the Rev Glazebrook arose out of an occasion where he was being sexually abused.
"His case will be that on the evening of his death, he was merely fending off a sexual advance by the Rev Glazebrook and struck him, causing him to fall into the bath."
Mr Hunnisett and a friend, Jason Groves, were first arrested on 5 May 2001 over the disappearance of Mr Glazebrook after bloodstains were found in the vicar's car and on his boat.
Jurors were told the pair were rearrested after body parts were found in woods behind Summerfields Sports Centre in Hastings and Groves admitted his part in the disposal of Mr Glazebrook's corpse.
Mr Katz said Mr Hunnisett and Groves had pleaded guilty to preventing the lawful and decent burial of a dead person.
He said the fact Mr Hunnisett admitted disposing of the vicar's body parts "points to him having murdered" him.
The trial continues.