Crawley man claims poisonous snake world record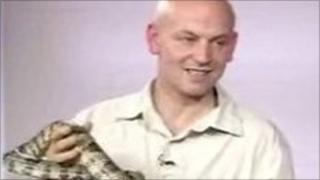 A Sussex carpenter is claiming a world record after spending 114 days in a room with some of the world's most venomous snakes.
David Jones, 44, of Crawley, flew to Johannesburg to complete the challenge.
He has been living in a room at a wildlife park with 40 snakes, including puff adders, snouted cobras, boomslangs and black mambas.
Mr Jones completed the challenge on Tuesday but decided to remain in the room for a further week.
The current record is held by South African Martin Smit.
Mr Smit, also known as Mad Martin, spent 113 days in a room with snakes without being bitten.
Mr Jones, whose wife is scared of snakes, said the last person to attempt the record was bitten by a puff adder and narrowly avoided having to have part of his leg amputated.
Mr Jones is using the challenge to raise money for St Catherine's Hospice in Crawley.